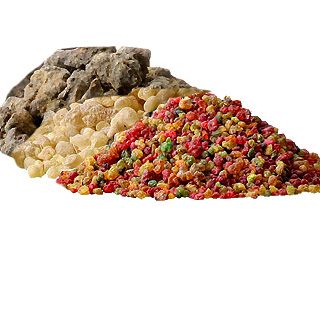 Frankincense Resin Rocks
Frankincense is the quintessential incense. It has the greatest association with spiritual practice of any substance on earth. Frankincense is the resin of the sacred Boswellia tree.
The resin is obtained by making deep cuts in the trunk of the tree lengthwise. Below this incision a narrow strip of bark is peeled off allowing the sap to run out, and as it touches air it begins to harden. It takes approximately three months to harden into the yellow "tears". The sap is gathered from May until the rain showers start in September.
With a characteristic purifying and relaxing quality its character is thought to strengthen willpower, self-confidence and determination.
When burning frankincense resin use

3 Kings Charcoals

! Each charcoal disk is self-igniting, just lite the end of the disk and wait till the little spark has gone through the entire charcoal, then place it in your

resin incense holde

r. Resin incense is then placed, in small amounts, into the center of each disk. Do not over load your charcoal with incense because you may run the risk of putting it out.

Charcoal disks

are very hot just like a barbecue charcoal so use with extreme caution.
Reviews