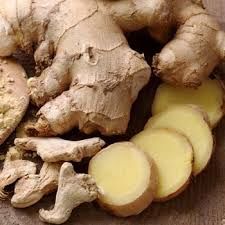 Ginger Essential Oil
100% Ginger
Aroma: Fresh, warm, woody, sweet bright top note
Properties: Analgesic, antibacterial, anticoagulant, anti-inflammatory, antioxidant, antiseptic, antispasmodic, aperitive, aphrodisiac, astringent, carminative, cephalic, cholagogue, diaphoretic, digestive, diuretic, expectorant, febrifuge, laxative, stimulant, stomachic, tonic
Benefits: Bruises, chills, colds, congestion, constipation, coughs, cramps, diarrhea, fatigue, fever, flatulence, hangover, headaches, indigestion, loss of appetite, muscular aches and pains, nausea, nervous exhaustion, poor circulation, sore throat, sprains, toothache, travel sickness, vomiting. The stimulant action of this oil makes it useful for fatigue and exhaustion. It may be added to a blend to be diffused into the air.
Suggested Use:
Blissful Thinking Blend: Add 1 drop each of ginger oil and orange oil and 2 drops of sandalwood oil blend to a diffuser and enjoy.
For aromatherapy use. For all other uses, carefully dilute with a carrier oil such as jojoba, grapeseed, olive, or almond oil prior to use. Please consult an essential oil book or other professional reference source for suggested dilution ratios.
Mixes Well With: Bergamot, cedarwood, clove, coriander, eucalyptus, frankincense, geranium, grapefruit, jasmine, juniper, lemon, lime, mandarin, neroli, orange, palmarosa, patchouli, rose, sandalwood, vetiver, ylang ylang
Caution: 100% Pure Undiluted Oils, but should not be taken internally. Use for aromatherapy and topical application (as long as diluted with a carrier oil). Keep out of the reach of children. Avoid contact with eyes. If pregnant or lactating, consult your healthcare practitioner before using.
Reviews