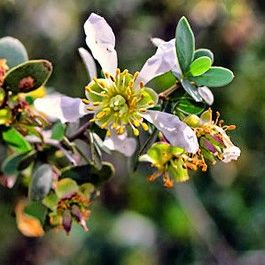 Jojoba Oil
This "oil" is in fact a waxy ester that is derived from the oil-rich seeds of the Jojoba bush, a desert plant that grows in the American Southwest and in Northern Mexico. It has a long tradition as a folk remedy with the Native Americans and Mexicans, who have used this oil for eczema, hair care and all kinds of skin types.
Jojoba Oil is a wonderful emollient, very regenerative, restructuring and toning. It's balancing and soothing properties make it excellent for skin care, hair care and general skin nourishment for all skin types. Jojoba Oil is also rich in Vitamin E, proteins and minerals, and has a 100 year shelf life!
What is a Carrier Oil?
A carrier oil is a vegetable oil derived from the fatty portion of a plant, usually from the seeds, kernels or the nuts.
If applied to the skin undiluted, essential oils, absolutes, CO2s and other concentrated aromatics can cause severe irritation or reactions in some individuals. Carrier oils are used to dilute essential and other oils prior to application. They carry the essential oil onto the skin.
Each carrier oil offers a different combination of therapeutic properties and characteristics. The choice of carrier oil can depend on the therapeutic benefit being sought.
Natural lotions, creams, body oils, bath oils, lip balms and other moisturizing skin care products are also made using vegetable (carrier) oils. From a simple essential oil/carrier oil blend to a more complex natural lotion, your choice of carrier oil can make a difference in the therapeutic properties, color, overall aroma and shelf life of your final product.
WE SELL OUR CARRIER OILS IN 1 SIZE: FANCY OUNCE ROLL-ON BOTTLE $5.00 OR DIAMOND OUNCE POURABLE BOTTLE $5.00.
Reviews