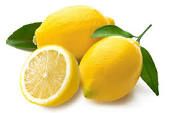 Lemon Essential Oil
100% Lemon Oil
Aroma: Clean, sugary citrus, slightly sour.
Properties: Antibacterial, antifungal, anti-inflammatory, antimicrobial, antirheumatic, antiseptic, antispasmodic, astringent, carminative, digestive, diuretic, laxative, sedative, vermifuge.
Benefits: Colds, constipation, detoxification, digestion, fever, general fatigue, indigestion, infections, insect bites, liver congestion, oily skin, slow circulation, sore throat, wounds, wrinkles. Lemon has many applications in the bathroom. It may be used as a disinfectant to clean surfaces or blended into an air freshener.
Suggested Use:
Burners and vaporizers - In vapor therapy, lemon oil can be used for colds, voice loss, flu,
depression, stress, lack of energy and fatigue. It furthermore relieves
irritation and also helps improve concentration, lifts the spirits, clears the
mind and helps in decision making.
Blended massage oil or in the bath - Lemon oil can be used in blended massage oils or diluted in the bath to
assist with digestive problems, lack of energy, fatigue, infections, flu,
obesity, overweight, rheumatism, depression, stress and as a general
tonic.
Lotions and creams - Lemon oil can be used in a cream or lotion to clear congested skin. The
astringent properties are great for oily skin conditions. The antiseptic effect
of lemon oil on the other hand, helps to treat any cuts, boils and minor wounds.
The rubefacient action of the oil further helps to sort out cellulite, as well
as helping with acne.
Mouthwash or gargle - If dispersed in a very diluted form in warm water, it can be great to use as
a mouth wash or gargle to sort out mouth ulcers.
For aromatherapy use. For all other uses, carefully dilute with a carrier oil such as jojoba, grapeseed, olive, or almond oil prior to use. Please consult an essential oil book or other professional reference source for suggested dilution ratios.
Natural essential oils are highly concentrated and should be used with care.
Mixes Well With: Benzoin, chamomile, cistus, elemi, eucalyptus, fennel, frankincense, geranium, juniper, lavender, neroli, oakmoss, rose, sandalwood, ylang ylang.
Caution: 100% Pure Undiluted Oils, but should not be taken internally. Use for aromatherapy and topical application (as long as diluted with a carrier oil). Keep out of the reach of children. Avoid contact with eyes. If pregnant or lactating, consult your healthcare practitioner before using.
Reviews