Mirror With Two Glass Birds On A Limb Electric Oil Warmer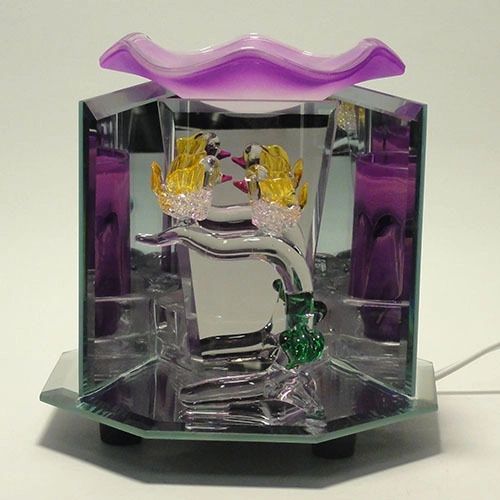 Mirror With Two Glass Birds On A Limb Electric Oil Warmer
Mirror electric oil warmer (Two Glass Birds on a Limb) looks great with any decor. This unique burner puts off an aromatic scent (of your choice) and doubles as a nightlight. Warmer comes with a dimmer switch which allows you to control the intensity of your fragrance.
Warmer comes with a removable oil dish for easy clean up and a 35 watt halogen bulb.
Warmer Instructions:
1-Gently add desired amount of oil to dish and avoid splashing on nearby surroundings. (Some oils have ingredients that cause discoloration if spilled or splattered on furniture).
2-Adjust the dimmer switch up for more fragrance or down for less fragrance.
3-Always adjust the warmer switch to the off position when not in use.
Nightlight Instructions: (If wanting to use as a nightlight only)
1-Gently remove oil dish.
2-Adjust the dimmer switch up for more light or down for less light.
3-Always adjust the dimmer switch to the off position when not in use.
Care & Maintenance:
Always turn warmer to off position to change the bulb. Do not change bulb when unit is hot. Always let the oil dish cool before adding fragrance oil as it may cause cracking.
Do not leave warmer on highest setting. Do not allow oil to drip or spill inside the electric oil warmer. If spilled wipe up immediately.
If thick oil is present in the dish, turn burner on for 2 minutes, let oil warm up and then discard the oil. If oil residue or dust are present on oil dish, wash dish before adding new oil.
Basic Safety:
Keep out of the reach of children. Warmer gets hot enough to activate fragrance oils and may be warm to the touch. Do not use the electric oil warmer if the cord has exposed wires showing.
Approx Weight: 2.20 lb. / Each
Dimensions (LxWxH): 7.00 x 7.00 x 7.00 in.
Reviews