Orange (Blood) Essential Oil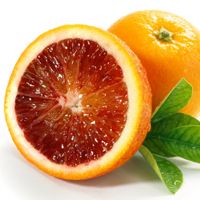 Orange (Blood) Essential Oil
100% Orange (Blood) Oil
Aroma:
Crisp and tangy citrus scent of a freshly juiced orange with a hint of green.
Extraction:
Cold Pressed
Uses:
Orange (Blood) Essential Oil is a sunny and radiant oil, bringing happiness and warmth to the mind. It helps people relax and helps children to sleep at night. Also for colds and flu to eliminate toxins from the body.
Vapor Therapy:
Orange oil can help with colds and flu, nervous tension and stress. Helps to create a feeling of happiness and warmth.
Bath and Massage Oil:
Assists with colds and flu, eliminates toxins, boosts the lymphatic and immune system and helps ease nervous tension and stress.
Cream:
It is great for older more mature skin, dealing with dermatitis, as well as acne and soothing a dry, irritated skin.
Blends well with Bergamot, Orange, Rosemary, Lavender, Geranium and Lemon.
Caution: 100% Pure Undiluted Oils, but should not be taken internally. Use for aromatherapy and topical application (as long as diluted with a carrier oil). Keep out of the reach of children. Avoid contact with eyes. If pregnant or lactating, consult your healthcare practitioner before using.
Reviews