Orange (Sweet) Essential Oil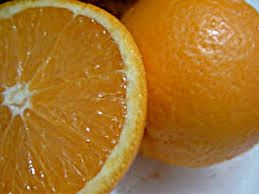 Orange (Sweet) Essential Oil
100% Orange (Sweet) Oil
Aroma:
Citrusy, sweet, reminiscent of orange peels, but more concentrated.
Extraction:

Cold Pressed
Uses:
Colds, constipation, dull skin, flatulence, flu, gums, mouth, slow digestion and stress.
Vapor Therapy:

Orange oil can helps dispel tantrums and frustration, etc.
Bath and Massage Oil:
Assists with poor digestion, constipation, stress and for clearing digestion of the liver.
Blends well with Lavender, Lemon, Clary Sage, Myrrh and Cinnamon.
Caution:  100% Pure Undiluted Oils, but should not be taken internally. Use for aromatherapy and topical application (as long as diluted with a carrier oil). Keep out of the reach of children. Avoid contact with eyes. If pregnant or lactating, consult your healthcare practitioner before using.
Reviews