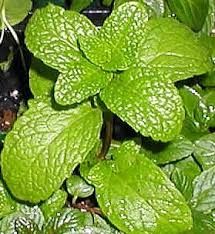 Spearmint Essential Oil
100% Spearmint Oil
Spearmint has a similar aroma to that of peppermint, but is slightly sweeter and is pale yellow to greenish in color.
When your mind is tired and in need of stimulating and upliftment, then spearmint oil is the one for you. Useful to deal with digestive problems including flatulence, constipation, diarrhea and nausea, as it relaxes the stomach muscles and also relieves hiccups. Helps with headaches, migraines, fatigue and stress, as well as respiratory tract. Helps with asthma, bronchitis and sinusitis.
Burners and Vaporizers:
Spearmint oil can be used for colic, vomiting, headaches, migraines, nervous conditions, asthma, bronchitis and sinusitis.
Bath or Massage Oil (blended):
Dilute in bath, blend in a massage oil. Helps with fatigue, headaches, migraines, stress, sinusitis, asthma, bronchitis and nervous conditions.
Cream:
When spearmint oil is used in a cream or lotion it can help with itching.
Spearmint oil blends will with Basil, Eucalyptus, Lavender, Rosemary and Jasmine.
Caution: 100% Pure Undiluted Oils, but should not be taken internally. Use for aromatherapy and topical application (as long as diluted with a carrier oil). Keep out of the reach of children. Avoid contact with eyes. If pregnant or lactating, consult your healthcare practitioner before using.
Reviews